Logistic Stimulation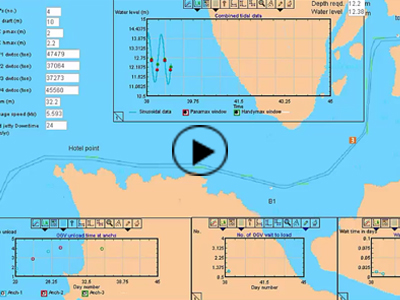 Zebec Marine Consultants & Services (ZMCS) uses software based simulation that serves as a decision making tool for improving performance. These are discrete-event simulation tools that are used for planning various processes which include logistics, warehousing, shipyard production, material flows and port operations. It evaluates facility layouts, solves bottlenecks, increases capacity utilization, improves throughputs, reduces lead times, determines buffer requirements, minimizes safety stocks or optimizes system control strategies.
Some key results that can be generated using simulation modeling are as follows:
Marine Logistics
Vessel size
The optimum vessel size can be identified from a range of options available, based on simulation outcomes of logistics delays or fleet utilization.
Vessel loading and unloading infrastructure
Optimum loading and unloading rates offer lowest capital cost of equipment and ideal utilization of onshore and offshore facilities; which can be identified from the simulation results.
Route optimization
The route traversed by the vessels is a key decision variable in the system design.
Berth utilization
Adequacy of a berth can be evaluated for various conditions e.g. given throughput, system down times, peak demands etc.
Channel navigation study
Capacity evaluation for a channel based on various conditions e.g. entry conditions, exit conditions, turnaround time for the vessels, any future upgradation etc may be identified through a 'Channel congestion study' or 'Vessel congestion study' using the simulation software.
Material handling
Capacity planning
Installed capacity of the plant for the given throughput per unit time; say per year.
Scheduling
Simulation can schedule the procurement of cargo, packing of the cargo, dispatch of the cargo for optimum system performance and pinpoint bottlenecks in Greenfield as well as Brownfield projects.
Shipyard planning
Material flow in the yard
Optimum flow of material will ensure better processing times and lesser reworks.
New-build / Repair Capacity planning
In congruence with the goals and vision of the top management, the new-build / repair capacity of the yard has to be planned. Simulation can give the accurate idea of what are the infrastructure needs of the yard for the planned capacity. Also, the effects of change in infrastructure on the capacity can be quickly visualized.
Procurement and work scheduling
Procurement of raw material has to be scheduled accurately in order to avoid stock outs and to avoid excess inventory occupying the yard space. Work scheduling is important to ensure timely order completion, to plan availability of labor etc.